It's been such a long, cold winter that I thought a little fun was in order.  I've decided to have a photo contest in which not one but three winners will receive a free family photo session with Michelle Barbeau Photography, how great is that?!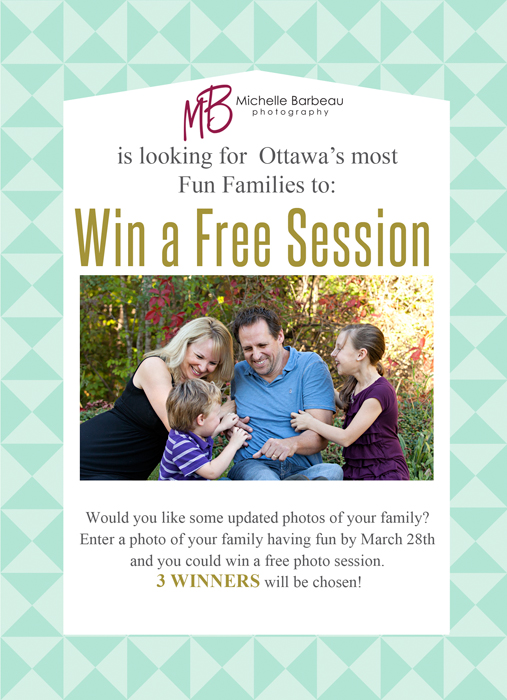 Here are the details:
Email a photo of your family (or kids) having fun to michelle@barbeau.net with the subject title "Family Photo Contest Entry".    Three winners will be chosen to receive a 30 minute mini photo session with Michelle Barbeau Photography as well as an 8×10″ and 2-5×7″ prints.    Photo sessions will take place at an outdoor location in Kanata on Saturday, May 3rd (rain date May 4th).
Winners:
one winner will be chosen by most votes on my blog plus likes on the Michelle Barbeau photography facebook page of their photo
one winner will be chosen at random of all contest entries
one winner will be chosen personally by me.  I will be looking for the most unique and fun photo…I love seeing families having a good time!
Entries must be emailed to me by March 30th.  Voting will start on March 31st at 9am and end on April 6th at 11pm.  Winners will be announced on April 7th.
a few rules:
one entry per person
participants must live in the Ottawa area or be willing to travel to Kanata for the photo session
photos must be taken by you or a person in your household and you (or the person that took the picture) must agree to have it posted on my blog and Facebook page.  By emailing me the picture, you're accepting these terms and that the picture is okay to be posted online.    Professional photos are not allowed in the contest
have fun 🙂
Go get your camera, put the self timer on,  gather up your family and have some fun!  It can be anything from playing in the snow in your bathing suits like it's sand to having a pillow fight…I'm looking forward to seeing all the entries, the more creative the better!
Happy Shooting,
Michelle