The most-asked question I get is, "What should we wear to our session?"
Here are a few ideas to help you out:
1. Coordinate but don't all wear the same thing!
Gone are the days of everyone wearing black or white shirts with jeans….show your individual style.   Picking out neutral tones with a few pops of colours look great.  Solid colours with medium tones work well- for example, blues, purples, greens, reds, oranges and browns.  Choosing outfits for a large group can be tricky, but sticking with two or three colours will establish a cohesive look.  A great formula for a daughter/son sibling photo is a patterned dress for her and a solid shirt for him that picks up a colour or tone from her pattern.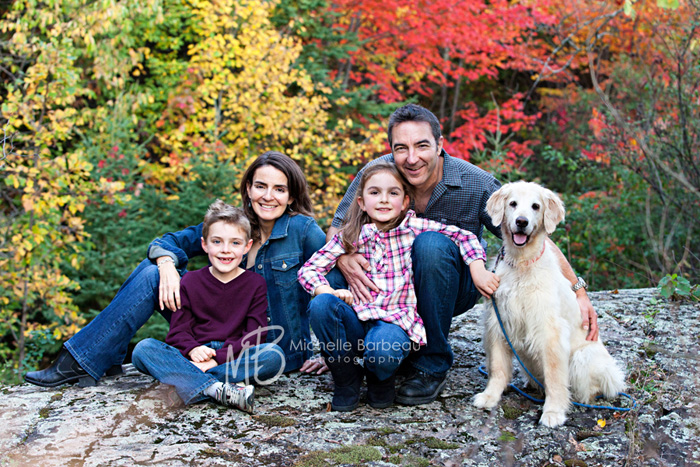 I love how this family picked blues and greys and then added a pop of colour/pattern with the girls blouse,  picking a colour from the blouse to coordinate with the boy's shirt.
What I like to do is choose one family member's outfit first and then coordinate around it to make sure that nobody clashes.  It's usually easiest to start with girls' and Mom's clothing first and then pull colours from their outfits for the boys and Dad.  Use patterns in moderation.  Have just one person in a pattern and have the rest of the family in simple and solid colours or patterns that are subtle and complementary.  For example, in the above photo, the girl has a pattern and everyone else has kept it simple.  The Dad's pattern is very subtle and blends well with the girl's blouse.
Another idea when picking outfits is to use a softer palette that has different tonal ranges of the same shades.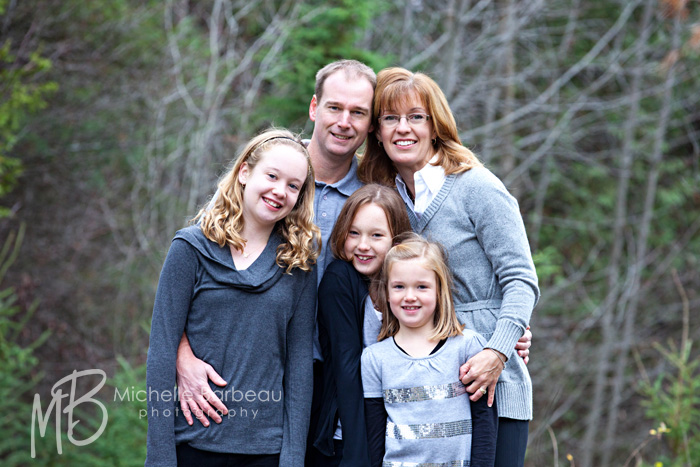 This family decided to use different shades of grey/black but it works because they used a variety of textures, layers and shades to add interest – they don't look too matchy-matchy.
**Try to stay away from clothing with logos, cartoon characters or brands as this can be distracting and will date your picture!**
2. Layers and texture add detail and depth to a photograph and look fabulous with black and white photos.  Use different fabrics and accents such as tweed, lace, hand knit items and ruffles.  I love the sequin stripes on the young girl in the above photo.
3. Accessorize!  Accessories add colour and interest to photos and can also be used as props.  Scarves, hats, bows, flowers, headbands, jewelry, sweaters, vests and jackets are great examples…just make sure that they don't overwhelm – we don't want them to be the focus of the photograph.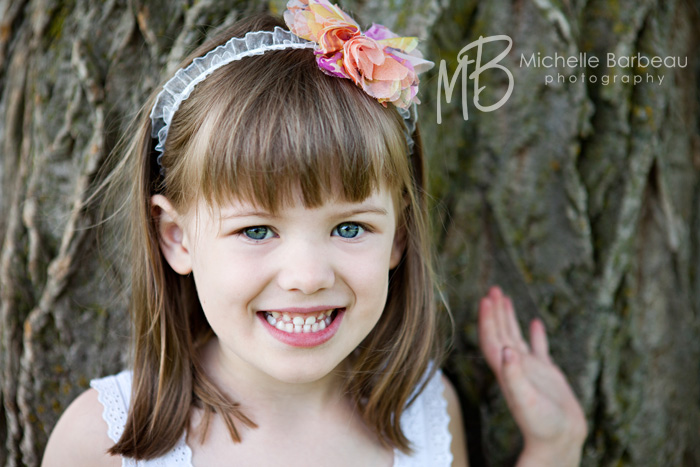 I love how this adorable hairband adds some interest to the above photo.
4. Props are a great way to add interest and special meaning to photographs.   Examples can be flowers, a favourite stuffed animal, a blanket made by Grandma or even a pet.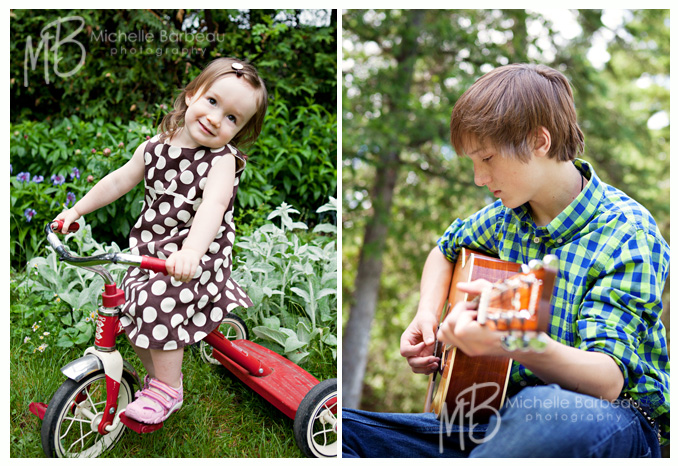 Props can also set kids at ease: this little girl was really shy but loved having her favourite trike and the teenage boy seemed really comfortable having his guitar with him (and it was awesome that he played music for us during the shoot…I hadn't heard Stairway to Heaven in years!  :))
5. NO running shoes and bright white socks!  Try not to wear running shoes (especially ones that are really white or have bright colours on them) unless they're a funky brand like converse and can fit in with the theme of the session.  Shoes can make or break a photo.  Most of the time, photos can even look great with bare feet…especially on little kids.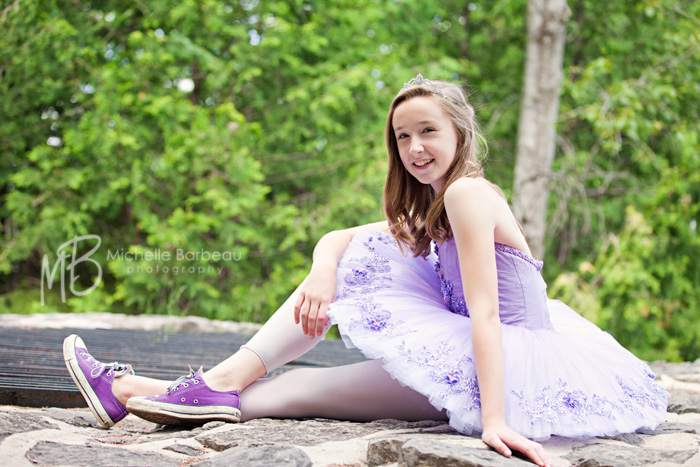 This girl wore her ballet shoes for most of the session but brought along these funky converse shoes for a few photos.  I love the way it turned out…so cute!
6. Make sure that clothing is comfortable!  We want children (and Dads) to be happy instead of grouchy and miserable, so make sure  to pick clothing that  is comfortable and they can move freely in them.
7. NO gum!  Please wait until after the photo session to give your children gum or else you will see it in the photos
8. How will the photos be used? Do you have a particular room in mind for hanging a photo?  If so, look at the colour scheme and style of the location and dress in outfits that will coordinate with the room.  When printed, your photo will feel right at home. For example if you would like to hang some photos in a little girl's room, have her dress in a cute girly outfit – think ruffles a cute little dress.  Will the photos be used for Christmas cards?  If so, you may want to wear winter clothing for your session.
9. Haircuts should be done at least two weeks ahead of time, if needed, so that it has a bit of time to grow out and look more natural for the photo session.
Looking for more ideas?  Check out my Family Pinterest Page and Teen Pinterest Page for examples.  You can also check out the What to wear guides on my blog.
Hope this helps and have fun! Please feel free to contact me if you would like help picking out clothing for your session.